Calling all adrenalin junkies…
As the chilly embrace of winter sets in, it's time to suit up and conquer the great outdoors! Picture this: a crisp chill in the air, serene mountain peaks laced with flora, and endless trails waiting to be explored! It's the perfect time to unwind, gear up, and escape into the mountains. 
Whether you're scaling peaks or just out for a leisurely hike, having the right winter jackets in your arsenal can make all the difference. 
Here's our holy trinity: Winter Jacket Edition which we highly recommend for anyone who loves a good (and warm) adventure!
1. The Classic Down Jacket:
Filled with fluffy down feathers that help you beat the chills, the Down Jacket is your go-to when the mercury takes a nosedive. The magic lies in the power of its insulation and ability to trap heat while remaining incredibly lightweight. It's the perfect pick that won't weigh you down on your trek into the mountains!
Key Features:
An Insulation Powerhouse: Down insulation offers an unrivalled warmth-to-weight ratio, making it the ultimate choice for lightweight, high-performance warmth
Packability: They're easy to compress, making it a space-saving essential in your backpack.
Versatility: They're ideal as a standalone or as a layering piece under a shell jacket.
Comfort: Down feathers are soft and comfortable to wear, providing a cosy and snug feeling when the jacket is worn.
Breathability: Down has good breathability, which means it allows moisture (like sweat) to escape from the inside of the jacket, helping to keep you dry and comfortable.
Why You Need It:
Down jacket is a popular choice for those seeking warmth, comfort, and versatility in cold weather, but it's essential to consider the specific features and characteristics of the jacket to ensure it meets your needs and preferences. Whether a chilly winter night at the camp, or hiking in cold conditions the down jacket most definitely calls for you to be protected and snug- ready to take on the day!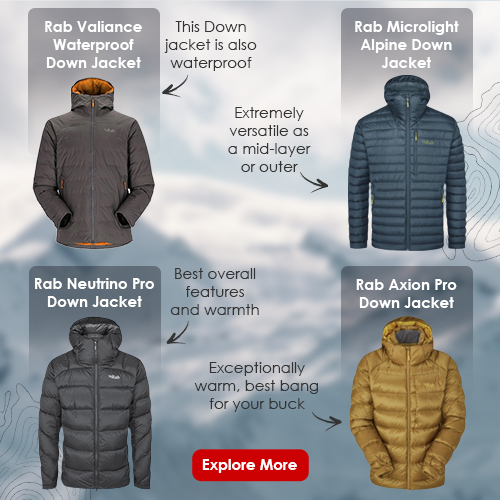 2. Everyone's favourite the Fleece Jacket:
Consider the fleece jacket your reliable adventure sidekick for all seasons, especially this winter! It's the ultimate choice of jacket that's comfortable, cozy and offers a soft, insulating layer against the unforgiving cold. With its breathability, it's ideal for activities like hiking and skiing where you'll be working up a sweat even in low temperatures!
Key Features:
Insulation: Fleece is known for its excellent insulation properties. It traps body heat while allowing moisture to escape, keeping you warm and dry.
Breathability: They regulate temperature during high-intensity activities.
Versatility: Fleece jackets can be used for a wide range of outdoor activities, including hiking, camping, skiing, snowboarding, and even as a casual layer for everyday use. They come in various styles, from full-zip to half-zip, and can be worn as standalone jackets or as part of a layering system
Comfort Factor: The soft, plush fabric feels like a warm hug.
Why You Need It:
A fleece jacket is essential for outdoor activities because it provides lightweight insulation, breathability, and quick-drying properties, keeping you warm and comfortable in cooler conditions while allowing moisture to escape, making it a versatile and practical choice for various adventures. From brisk morning walks to evenings by the campfire, your fleece jacket will be your new best friend for every kind of adventure!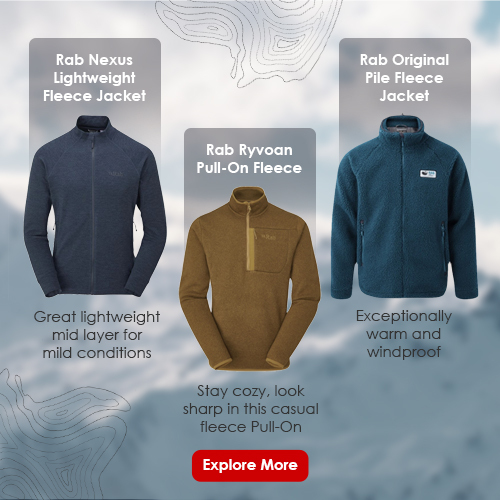 3. The Dynamic Synthetic Insulated Jacket
A synthetic insulation jacket designed for optimum performance during high-intensity outdoor activities in cold and wet conditions, ideal for trekking, hiking, or versatile everyday use.
Key Features:
Moisture Resistance: Synthetic insulation maintains its warmth even when it gets wet, which is crucial for outdoor activities in damp or rainy conditions.
Quick Drying: Synthetic insulation dries quickly, making it ideal for activities where you might encounter moisture. This is particularly important in situations where you need to stay warm and dry, such as in wet climates or during high-intensity activities that cause perspiration.
All-Weather Versatility: Synthetic insulation is versatile and performs well in a variety of weather conditions. It's not as affected by humidity or moisture as down, making it a good choice for activities in a wide range of outdoor environments.
Adaptability: They're suited for a wide range of temperatures and activities.
Sustainability: Some synthetic insulation materials are made from recycled or sustainable sources, contributing to environmentally friendly options for outdoor enthusiasts.
Why You Need It:
A synthetic insulation jacket is essential for outdoor enthusiasts due to its unique combination of moisture resistance, durability, and quick-drying properties. Unlike down insulation, synthetic materials maintain their warmth even when wet, making them a dependable choice for activities in damp or rainy conditions. From surprise snowfalls to temperature ups and down, the Insulated jacket has got your back!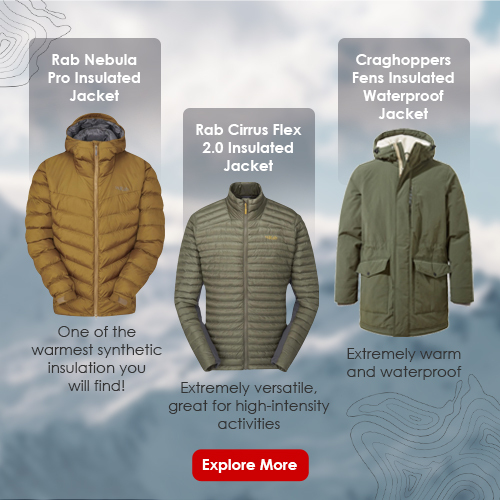 So there you have it! The winter jacket trio that's designed to elevate your outdoor experience, no matter how rugged it may be! Always make sure to select the appropriate jacket for the prevailing conditions to enhance your adventure and take it to the next level. Visit our website to find YOUR perfect winter jacket for your next winter escapade.
Happy Exploring!